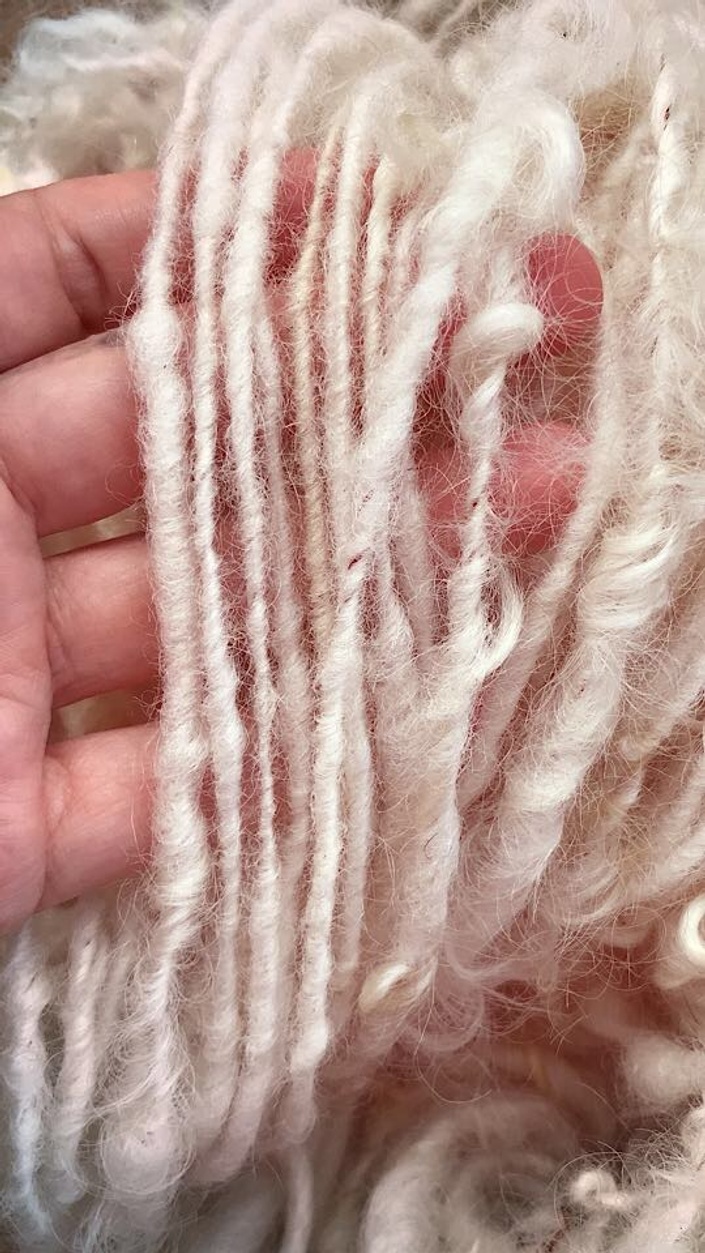 How to core spun textured yarn with locks and fibre
An intermediate course on hand spinning using the core spinning technique - in English and Français
An easy way to make art yarn using the core spinning technique and wool locks to give texture
What I show you in this class:
How to card the blend that makes this yarn
How to draft fibre to make full texture
How to achieve the correct amount of twist
How to make this yarn with NO carder
How to achieve a perfect straight skein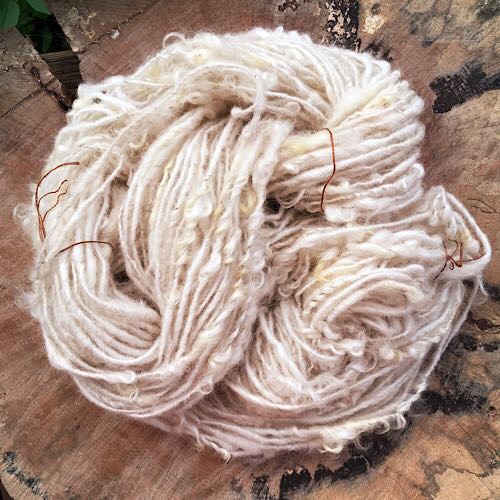 What you need in this class:
A spinning wheel
Raw locks and raw fleece
Thread or yarn for the core
Core spinning may looks difficult, but it is an easy way to spin art yarn without worrying a lot if you yarn will break. The core act as a secure base.
Filer sur une âme peut avoir l'air difficile, mais c'est une façon de faire de la laine artistique sans soucis, l'me crée une base solide.
Core spinning is fun! Once you master the technique, you can create lots of different art yarns! Add fabric, ribbons, lace, everything you want!
Le filage sur est l'fun! Une fois maitrisé, vous pouvez créer plein de laine d'art! Ajoutez du tissu, de la dentelle, du ruban, tout ce que vous voulez!
Make yarn you will never find elsewhere :)
All my courses are bilingual
English - French
Tous mes cours sont bilingues
Anglais - Français
Ce cours est disponible en tout temps, vous pouvez le visionner autant de fois que vous voulez. Vous pouvez commenter et poser vos questions, je suis la pour aider.
This class is always available, you can watch it as many times you want. You can leave comments and ask all questions you need, I'm here to help!
Course Curriculum
Carding
Available in days
days after you enroll
Preparing the skein
Available in days
days after you enroll
Your Instructor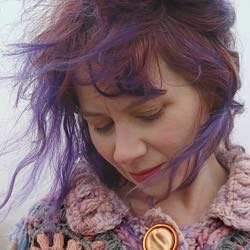 Bonjour! I'm Joyce Fibre Artist and owner of mynoush.com. I started spinning yarn a few years ago to have more freedom in creating my clothing and accessories. I love wool a lot, and of course living in Quebec helps a little bit to love the warmth of wool. Im completely self taught regarding all the fibre arts, but Im a former seamstress. I learned the hard way, with short and dirty fleece full of vegetation, a broken wheel and no carder. Read my full story here. I'm inviting you to join my fibre journey in my new studio in Quebec, Canada. xx